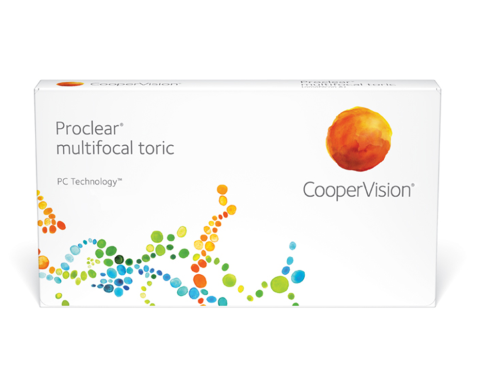 Proclear® multifocal toric
You have astigmatism, and as your vision has been evolving, you may have found that you experience eye dryness and irritation during lens wear. CooperVision® Proclear® multifocal toric contact lenses may help. They're made with PC Technology™ which was specially created for contact lens wearers like you; it binds water to your lenses, helping them remain fresh and comfortable all day long. Focus on life and not on your contact lenses with Proclear®.
The features you'll love

Balanced Progressive® Technology provides multiple correction zones in each lens that are tailored to your personal prescription, so you can see clearly at all distances.

Made by CooperVision, a world leader in toric contact lenses, the Proclear toric design provides on-eye stability, comfort and vision performance.

PC Technology binds water throughout each Proclear contact lens, creating a shield around it, keeping the lens clean. Contact lenses stay hydrated, helping them feel moist and comfortable throughout the day.

The Proclear lens material helps you avoid eye irritation by resisting deposit build-up over the course of your day.
Unsure which products are best for you?
Take this four question quiz to discover which of our products may best fit your needs.
Find Your Lens