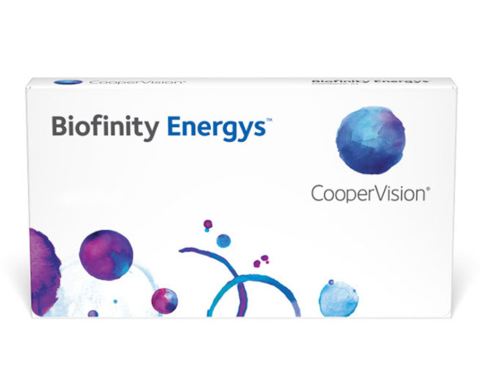 Biofinity Energys®
If your busy days find you regularly shifting focus between digital devices and off-screen activities, turn to CooperVision® Biofinity Energys® contact lenses. They provide a remarkable balance of premium comfort, breathability and excellent visual performance. And they're the world's only contact lenses with Digital Zone Optics® lens design, a CooperVision® technology specially developed to keep up with today's digital lifestyles. Biofinity Energys lenses also feature Aquaform® Technology, which helps minimize the eye dryness that can occur with digital device use and keeps your eyes outstandingly comfortable all day long.
The features you'll love

Digital Zone Optics lens design reduces stress on the eye muscles you use to focus on digital devices*, so you can shift focus between on-screen and off-screen with less effort.

Aquaform Technology locks in water, helping to minimize eye dryness that occurs from blinking less often when viewing screens.

High breathability gives your eyes 100% of the oxygen they need† to help them stay healthy, clear and white.1
Unsure which products are best for you?
Take this four question quiz to discover which of our products may best fit your needs.
Find Your Lens
* Based on a statistically significant difference of the mean change of Accommodative Microfluctuations and when compared to Biofinity sphere after reading on an iPhone for 20 minutes.
† During daily wear.
References:
1. Brennan NA. Beyond Flux: Total Corneal Oxygen Consumption as an Index of Corneal Oxygenation During Contact Lens Wear. Optom Vis Sci 2005. 2005;82(6):467-472.